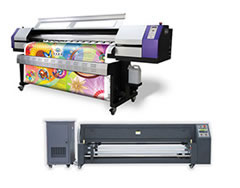 Infiniti TM /Challenger TM
Textile /Sublimation Printer Model: UD-181LB / UD-1812LB
The textile/sublimation printer UD-181LB / UD-1812LB incorporates a 2-unit system that includes both the printer and the heater. Images are printed directly onto fabrics or textiles via sublimation ink without the usage of sublimation paper. The heater then provides uniform heating around the printed media, producing brilliant and vivid results. The highly integrated sublimation printer system is designed with advanced technology, allowing for a more streamlined and efficient printing process. A well balanced front & back bar is utilized in combination with our unique roll feeding and take-up system to produce flags, textiles, and fabrics by the roll.
Features
1. Unique roll feeding system.
2. User-friendly operation panel.
3. Balanced weight system.
4. Advanced sublimation technology.
5. Optional implementation of the automatic take-up system.
6. Yields products with waterproof and anti-UV properties.
Technical Specifications
Model
UD -181LB
UD -1812LB
Print head
Epson DX5
Number of print heads
1 Head
2 Heads
Maximum print width
1,800mm
Print Speed
D
2 PASS 25 m2/h
2 PASS 40 m2/h
S
3 PASS 15 m2/h
3 PASS 25 m2/h
Q
4 PASS 10 m2/h
4 PASS 22 m2/h
HQ
6 PASS 8 m2/h
6 PASS 15 m2/h
Ink
Type:
Disperse Dye sublimation ink
Color :
4 Color (C,M,Y,K)
Capacity:
1L per Main Tank of Each Color
Ink Supply System
Auto Ink Supply System
Media Width
Maximum 1,880mm
Media Type
Polyester
Auto Media Feeding System
Equipped (Max. Media Weight 25kg)
Auto Cleaning System
Anti-clogged Flash Function & Capping System
Pre-heating & Drying System
Equipped
Clamp
Equipped
Print Interface
USB 2.0
Print head Height
2 to 6 mm Above Media Adjustable
RIP Software
Ultraprint, Maintop, Photoprint, Wasatch, Ergosoft
Input Power
AC 220V, 50Hz/60Hz
Machine Dimension / N.W
L3,080 x W990 x H 1,260mm / 204KG
Package Dimension / G.W
L3,190 x W1,100 x H 845mm / 390KG
Application
The textile/sublimation printer has a flag-making system that prints on textiles directly without the usage of intermediate mediums. It is ideal for the production of silks, flags, fabrics, banners, portraits, etc.
Related Names
Textile Printing Machine | Printing on Textile | Textile Printing Equipment | Fabric Printing Solution