The eco-solvent printer UD-181LA / UD-1812LA is our answer to Roland, Mutoh, and Mimaki. Would you like to own a top-tier machine without the astronomical price tag? Does cartridge ink seem redundant to you? Look no further. We have your solution-the Phaeton Galaxy series.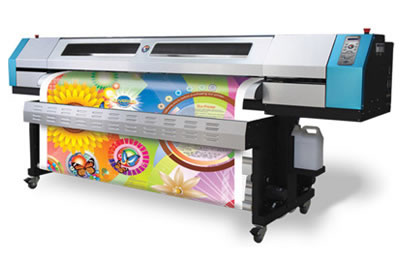 Technical Specifications
Model
UD-181LA
UD-1812LA
Print Head
Epson DX5
Number of Print Head
1 head
2 heads
Max Printing Width
1800mm
Printing Speed
Draft
4 pass 16 sqm/hour
4 pass 31 sqm/hour
Standard
6 pass 11 sqm/hour
6 pass 21 sqm/hour
Quality
8 pass 9 sqm/hour
8 pass 13 sqm/hour
High Quality
8 pass 9 sqm/hour
8 pass 13 sqm/hour
Backlit
12 pass 5 sqm/hour
12 pass 8 sqm/hour
Ink
Type
Water-based / Eco Solvent Ink
Color
C M Y K
Capacity
1 liter
Ink supply system
Auto ink supply system
Media
Width
Max 1830mm
Type
Vinyl, film, polyester, flex, backlit film, PS board, KT board, PVC foam board…
Auto Media Feeding System
Equipped Max media weigh 25kgs
Auto Cleaning System
Anti-clogged flash function and capping system
Pre-heating & Drying System
Equipped
Clamp
Equipped
Print Interface
USB 2.0
Print Head Height
2 -10mm from media
Rip Software
Ultraprint, Maintop, Photoprint, Shiraz , Wasatch
Input Power
AC220v, 50HZ/60HZ
Machine Dimension
L3080 * W990 * H 1260mm / 204kgs
Package Dimension
L3190 * W1100 * H 845mm / 400kgs
High Resolution
This eco solvent printer adopts same print head as Roland, Epson DX5 print head with 24.5mm width and 8 lines nozzles. And every line contains 180 nozzles, 1440 nozzles in total. The nozzle size only is 3.5pl. It has the same resolution and printing performance as Roland eco solvent printers.
High Speed
The DX5 print head features high currency frequency, which translates to high ink-spray speed and ergo high printing speed. The responsive USB 2.0 data port further enhances processing time while enabling long scale output printing.
High Stability
Phaeton Galaxy eco solvent printers are equipped with XY AC servo motors. Precise gear-occlude with direct transmission guarantees accurate re-positioning even under high speed conditions. These printers implement the THK guide rail, famous for its stability; it is free of deformations even after a long run.
Low Printing Cost
In comparison with original cartridge ink, our bulk ink supply system is much more economical. The Galaxy printer is appreciated by advertising professionals for its long-term cost reduction benefits.
Low Maintenance
Intelligent cleaning and water-retaining equipment protects the print head while allowing for easy maintenance.
Application
The Phaeton Galaxy eco solvent printer is ideal for both indoor and outdoor printing purposes. It is compatible with printing media such as mesh, vinyl, banner, vehicle wrap, window film, photo paper, oil canvas, and perforated vinyl.
Related Names
Durable Eco-solvent Printing Machine | Eco-solvent Based Printer | Economical Inkjet Printing Equipment