Our eco solvent printer VS-SP series varies in three types, namely VS-901SP type, VS-1301SP type and VS-1601SP type. The printing width is 920mm (36 inches), 1320mm (52 inches) and 1620mm (64 inches) respectively. Our machine adopts the EPSON DX5 with the printing resolution up to 1440dpi.
At present, we have taken a series of actions to expand the market of this series of products, such as offering competitive price, taking the PhotoPrint 10 server Pro or Wasatch Soft RIP 6.7/6.9/7.0 as gift and even more proper cost of consumable items.
Our sales consultants will provide the latest quotation and the current promotion news for customers.
http://youtu.be/bSJAq6BdQaA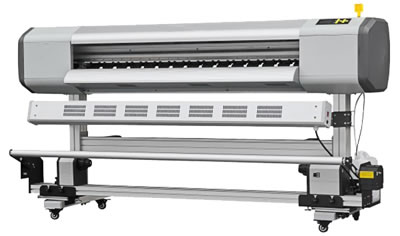 Product Details
| | |
| --- | --- |
| | 1. Print head carriage |
| | 2.This VISION eco solvent printer is designed with the frame that features high efficient and stability. The thick specially shaped aluminum profile keeps the machine with long service life and minimum mechanical vibration. A large amount of cast aluminum parts makes the printer compact in structure, avoiding the high rate of failure of combined accessories. |
| | 3. The precision and uniformity of the gear pitch are critical factors affecting the accuracy of the transmission system. Therefore, our eco solvent printer employs the quality gear and belt drive parts. |
| | 4. The print platform offers the segmented heating performance distributed in the front, middle and rear sections. This is the control panel for heating the platform. |
| | 5. CMYK×2 inking system |
| | 6. The automatic tensioning and feeding system with tension control is optional. |
| | 7. Compact and efficient control panel |
| | 8. Thanks to the innovative nozzle compensation system, this eco solvent printer is able to remap the blocked nozzles for continuous printing with preeminent image quality. Without any speed loss, this nozzle compensation system offers superior performance to others. The intelligent nozzle mapping plays an important role in shortening the downtime and improving the production efficiency. |
| | 9. The eco solvent printer introduces the exclusive intelligent pass technology that makes use of optimal algorithms and optimized mask patterns, getting rid of overspray and pass-to-pass banding. |
Technical Parameters
Model
VS-901SP
VS-1301SP
VS-1601SP
Print Head
Epson DX5
Number of Print Head
1 head
1 head
1 head
Max. Printing Width
920mm
1320mm
1620mm
Printing Speed (m2/h)
Draft
4 pass 15
4 pass 17
4 pass 19
Standard
6 pass 12
6 pass 15
6 pass 17
High Quality
8 pass 10
8 pass 11
8 pass 13
Backlit
12 pass 6
12 pass 7
12 pass 9
Ink
Type
Water-based/eco solvent ink
Color
CMYK
Capacity
1L
Ink supply system
Auto ink supply system
Media
Width
Max. 1100mm
Max. 1400mm
Max. 1700mm
Type
Vinyl, film, polyester, flex, backlit film, PS board, KT board, PVC foam board…
Auto Media Feeding System
Equipped
Max. media weight: 25kg
Media Tensioning System
Optional
Print Head Cleaning System
Anti-clogged flash function and capping system
Pre-heating and Drying System
Equipped
Clamp
Equipped
Print Interface
USB 2.0
Print Head Height
From media surface 1.5, 2.0, 2.5, 3.0 adjustable
Rip Software
Ultraprint, Maintop, Photoprint, Shiraz, Wasatch
Input Power
AC220V, 50Hz/60Hz
Machine Dimension
(mm)
L1710×W640×H1170
L2110×W640×H1170
L2410×W640×H1170
Weight
70kg
85kg
100kg
| | | |
| --- | --- | --- |
| | | |
| Feed the printed medium | Feed the printed medium | Install the winding roller for finished product |
| | | |
| Start printing | Efficient hot air drying system | |
Related Names
Eco-solvent Ink Based Printing Machine | Wide Format Eco-solvent Printing Equipment | Inkjet Printer with Easy Operation