The eco solvent printer UD-211LA / UD-2112LA is equipped with the 3.5pl Epson DX5 piezo print head. This technological marvel enables a maximum printing resolution of 1440 dpi and allows users to experience the best-in-class print quality. Images are vivid and incredibly sharp. Increased precision and consistency of both the dot size and dot release are main contributing factors to this outstanding performance. Additionally, dot gain control has been increased for more latitude in profile settings. Intelligent interweave print technology virtually eliminates banding while increasing print speed, yielding stunning images with breathtaking realism.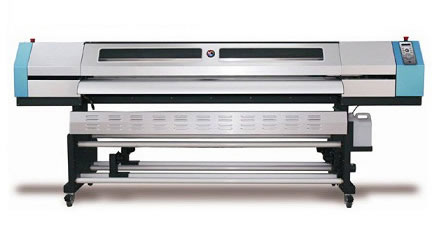 Technical Specifications
Model
UD-211LA
UD-2112LA
Print Head
Epson DX5
Number of Print Head
1 head
2 heads
Max Printing Width
2100mm
Printing Speed
Draft
4 pass 17 sqm/hour
4 pass 34 sqm/hour
Standard
6 pass 12 sqm/hour
6 pass 22 sqm/hour
Quality
8 pass 10 sqm/hour
8 pass 17 sqm/hour
High Quality
8 pass 10 sqm/hour
8 pass 17 sqm/hour
Backlit
12 pass 6 sqm/hour
12 pass 10 sqm/hour
Ink
Type
Water-based / Eco Solvent Ink
Color
C M Y K
Capacity
1 liter
Ink supply system
Auto ink supply system
Media
Width
Max 2150mm
Type
Vinyl, film, polyester, flex, backlit film, PS board, KT board, PVC foam board…
Auto Media Feeding System
Equipped Max media weigh 25kgs
Auto Cleaning System
Anti-clogged flash function and capping system
Pre-heating & Drying System
Equipped
Clamp
Equipped
Print Interface
USB 2.0
Print Head Height
2 -10mm from media
Rip Software
Ultraprint, Maintop, Photoprint, Shiraz, Wasatch
Input Power
AC220v, 50HZ/60HZ
Machine Dimension
L3380 * W990 * H 1260mm / 225kgs
Package Dimension
L3490 * W1100 * H 845mm / 422kgs
Low Maintenance
The unique design of our printers allow for a high degree of integration. For instance, the print head can be cleaned via an individual capping station and wiper, saving time and effort. Maintenance has been greatly simplified and is significantly less expensive.
Fast Drying
Our 3-heater design accelerates print drying time and is a major upgrade from 2-heater models. The added efficiency is invaluable for advanced users that wish to mass produce.
Outstanding Craftsmanship
The eco solvent printer UD-211LA / UD-2112LA implement the alloy-aluminum girder to minimize operation noise. A quiet working environment can now be affordable. These meticulously assembled machines are built with rigorous standards and will provide users with years of profitable use.
Related Names
Eco-solvent Printer with Efficient Drying Unit | Cheap Inkjet Printing Machine | High Quality Outdoor Printing