| | |
| --- | --- |
| | |
| CNC Plasma Cutter for Metal VS1325 | CNC Plasma Cutter for Metal VS1530 |

Features

1. Hypertherm / Thermadyne Power Supply.


1. The CNC plasma cutter for metal is assembled with some of the most advanced components on the current market. The cutter is provided by Hypertherm Inc., the world's leading brand for plasma cutting equipment. Nearly 40 years of research and development has allowed this company to define the industry with revolutionary cutting technologies. They have played an integral role in the advancement of plasma-related fields.


2. Thermal Dynamics has operated for over 5 decades and is a pioneer in the study of plasma cutting systems. Their arc cutting system can cut through virtually any material.

3. In recent years, the Chinese Domestic Plasma Cutter has been promoted with government support. The machine features high cost-performance and is fine-tuned for handling heavy cutting.
2. Microstep™ Torch Height Controls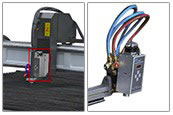 Microstep torch height controls are self-adjusting and can automatically optimize the distance between the plasma head and the work piece to ensure cutting accuracy.
1. A stepper motor is used instead of the conventional DC motor.
2. The capacitance height-control mode can directly display cutting nozzle height.
3. The mechanical lifting device and the height controller are fully integrated.
4. Linearization calibration is both simple and convenient.
5. These controls are applicable in the toughest of environments.

3. Microstep™ Control System


The Microstep control system features a completely revamped version of the CNC controller with the addition of numerous new features.
1. A large memory capacity is available for the storage of user programs.
2. The built-in library contains commonly used figures for operating convenience.
3. Functions such as break-point & power-cut restoration prevent data loss.
4. The system can be returned to a previous reference point.
5. Revolving, mirror image, and kerf compensation options are available.
Construction
The lathe bed consists of ultra-thick square steel tube and can bare heavy workloads such as 30mm thick metal sheets.
Driver System
1. Clients can choose from one X-axis and two Y-axis stepper motors or optional servo motors.
2. The steel fabricated gantry is complete with dual x-axis drive. 3. The durable Y-axis linear guide is highly precise.
4. The ground X-axis guide rails are designed for accuracy.
5. HIWIN linear guide enables smooth and precise transmission.
Software
Software conversion is capable processing many standard G code path documents. These files are typically generated by programs including WenTai (ARTCUT), Northern Airline Haier (CAXA), Artcam, Type3, etc. U-disk allows the control system to change manufacturing documents for easy and convenient operation.
Arc-striking
The success rate of arc-striking can exceed 99%.
Application
The CNC plasma cutter for metal can cut metal sheets from materials including aluminum, carbon steel, stainless steel, and galvanized steel. It can also process brass and titanium plates.

Technical Specifications
Models
CR-1325
CR-1530
Working area (XYZ, mm)
1250*2500*100
1450*3000*120
Power Supply
Hypertherm ™ Powermax Series: 45A, 65A, 85A,100A, 135A, 150A
Working Mode
Untouched Arc Striking
Torch Control
Mechanical Adjuster
Operating system
DSP with USB interface
Linear motion system
X axis
Rack, Round rail
Y axis
Rack, HIWIN linear rail
Z axis
Ball screw, Round rail
Cutting Speed
UP to 8000mm/min
Cutting Thickness
3-30mm (Depends on the plasma power supply)
Motors
Stepper (Japan Servo Motor optional)
Working voltage
380/220V, 50/60Hz
Software compatibility
Ucancam , Type3, Artcam , Wentai , standard G code path file, etc.
Machine body structure
Welding steel, for 0-10mm thickness plates cutting
Net Weight
800kg
940kg
Spindle
Power
/
/
Speed
/
/
Optional parts
Spindle
Water cooling (2.2KW/3.0KW/4.5KW) or Italy HSD air cooling (1.5KW/3.0KW/4.5KW)
Multi-spindle (2pcs, 3pcs, 4pcs, or more)
Motor
Japanese Servo motor
Others
Dust collector
Vacuum pump
Rotary device
Related Names
Metal Plasma Cutting Machine | CNC Plasma Cutting Equipment | Modern Cutting Machinery