The laser engraver VS-1290 is part of our CO2 laser engraver series. This model is used for the engraving and cutting of non-metal materials including wood, glass, paper, stone, cloth, fabric, leather, acrylic, marble, MDF/HDF, double color sheet, etc.

Optimized Structure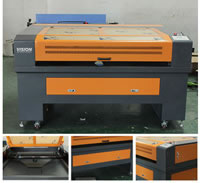 The machine frame is crafted from solid steel. Engraving residue is collected neatly in a drawer for convenient disposal.
Control System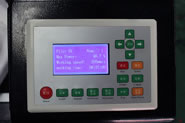 Powered by advanced DSP and FPGA technologies, the MPC control cards allow our machines to bypass the technical bottleneck-a common problem in the laser processing industry. The intuitive control panel is designed for user-friendly operation, providing convenient access to output power adjustment. Display parameters clearly exhibits important data such as the file name, output power, working time, cutting speed, and engraving speed. Positioning of the laser head can be easily adjusted via a direction button.
High Speed Motion System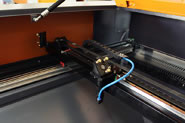 The laser engraver is equipped with an advanced 3-phase step motor and a high quality belt. It is capable of great processing speed and precision. The machine has a maximum tolerance of 0.05mm and can operate at engraving speeds of up to 1000mm/s. It can facilitate swift and uninterrupted curve cutting at either 60mm/s (standard model) or 300mm/s (advanced model).

Powerful Software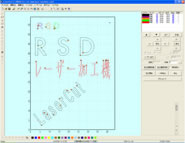 1. Our software can adjust the engraving precision, allowing for the accurate cutting, scribing, and engraving of images and vector diagrams.
2. Selection of the shortest path is enabled for optimizes working efficiency.
3. Users can enjoy seamless connection with image editing programs such as AutoCAD, CorelDRAW, and Wenti. AutoCAD hand-drawn curves are an acceptable form of data.
4. Image processing support is provided for file formats such as AI, BMP, PLT, DXF, and GIF.
5. 360° slope engraving is enabled. The slope can be freely transformed with no speed limitations. It is, however, subject to the laser processing depth.
6. Advanced color management allows for all color combinations. Engraving sequence can be freely defined. Output can be partial or total.
Laser Tube and Optical System
The combination of import ZnSe focus-lenses and gold-coated silicon reflection mirrors (10.6um wavelength) result in finer focal-beams with a slighter degree of light wane.
High quality laser tube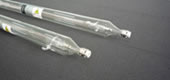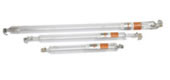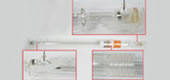 Gold coated Si reflective mirror
ZnSe focus lens
Accessories
Air pump
Exhaust fan
Industrial chiller
Air Pump
The Air pump blows smoke out of the laser path, ensuring an accurate cutting kerf. It is installed in behind the machine. The blow mouth is located in the laser head.
Exhaust Fan
Smoke produced during operation is dissipated by the exhaust fan. It is also installed behind the machine. Air entry is channeled under the working table.
Industrial Chiller
The Teyu brand industrial chiller offers performance stability. It offers a reliable cooling system for the CO2 laser tube, maintaining it at optimal temperatures and prolonging its potential service life. It is installed on the exterior of the machine. The cooling water pipes are connected to the laser tube.
Optional Accessory (Rotary Device)


Two types of rotary devices are available for cylindrical engraving. Type A is designed for objects with different diameters on each end. Type B is designed for up-and-down working table lasers. It can accommodate a large variety of shapes and sizes. This attachment can be easily adjusted for variable lengths.
Applicable Industries
The laser engraver is widely used in the model industry for the processing of wooden toys, construction models, as well as aviation and navigation models. It is also used extensively in industries including printing, advertising, embroidery, gifts & craft, etc.

Technical Specifications
Models
VS-1290
Working area (L*W, mm)
1200*900
Available laser power
80W/100W/150W
Net Weight
240kg
Equipment Dimension (cm)
154*132*110
Specification
Laser type
CO2 sealed laser tube, water-cooled
Cutting speed
0-60000mm/min (0-1968 inch/min)
Highest Scanning Precision
2500dpi
Locating Precision
≤±0.01mm
Minimum Cutting Line Width
≤0.2mm
Laser Output Control
1-100% software setting
Power supply
380V/220V/50HZ , 110V/60HZ
Min. shaping character
English 1.0 x 1.0mm
Graphic format supported
BMP, PLT, DST, DXF, AI
Software supported
CorelDraw, Photoshop, AutoCAD, TAJIMA
Operating environment
Windows98/2000/XP, Vista
Driving system
3 phases stepper motor
Color Separation
Available
For additional sizes, please contact a sales rep.