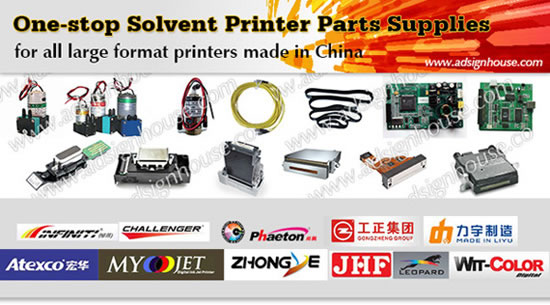 Our company offers a large selection of premium parts for wide format inkjet printers. Components are available for JHF, Mutoh, Epson, Mimaki, Roland, Phaeton, and Infiniti/Challenger. We supply parts for solvent printers that are made by Liyu, Myjet, and Zhongye. Additionally, we stock components for digital printers from brands such as Wit-color and Gongzheng.
Regular parts are stocked in abundance to supply urgent orders. These may include ubiquitous components such as ink tube, ink filter, ink pump, air pump, print head, and print head data cable.
Is you printer acting up? Do not hesitate to call us. Our technicians are on standby to help you pinpoint the malfunction. To remedy the problem, spare components can be sent via TNT, DHL, or Fedex. Our large repertoire contains readily available parts for wide format inkjet printers. Please contact a sales representative for additional information. Your inquiry will be handled within 24 hours.
Related Names
Inkjet Printing Machine Spare Part | Inkjet Printing Equipment Accessory | Service Part for Large Format Inkjet Printer