Product Description
The eco solvent printer VS-180 series is designed in two types including the VS-1801 type and the VS-1802 type, which are configured with 1 and 2 EPSON DX5 print heads respectively. Their printing resolution is as high as 1440dpi and the printing width reaches 1860mm (73 inches).
We have taken a series of actions for popularizing the products, such as competitive price, presents of PhotoPrint 10 server Pro or Wasatch SoftRIP 6.7/6.9/7.0, as well as favorable cost of consumables.
Our sales consultants will provide the latest quotation and the current promotion news for customers.
http://youtu.be/XsBHEL2eqF4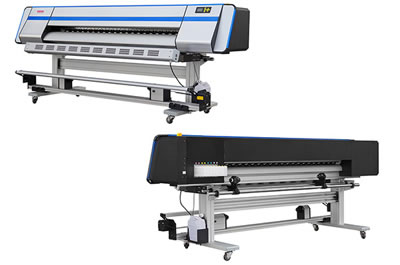 Product Details
| | |
| --- | --- |
| | 1.Print head carriage |
| | 2.The rationally designed frame makes the eco solvent printer extremely efficient and stably. The thick aluminum profile with specific shape prolongs the service life of the machine and minimizes the mechanical vibration. A large amount of cast aluminum parts make the machine compact in structure and avoid the high failure rate of combined accessories. |
| | 3. The automatic tensioning and feeding system with tension control is selectable. |
| | 4. The print head cleaning and moisturizing system in new design offers better cleaning effect and simple maintenance. |
| | 5. Interior particulars of the machine |
| | 6. Our eco solvent printer is configured with the optimized nozzle compensation system that is able to remap the clogged nozzles without losing printing speed to keep uninterrupted print of quality images. This system facilitates the superior printing effect to other nozzle compensation systems. The intelligent nozzle remapping promotes the reduction of downtime and increase of productivity. |
| | 7. The eco solvent printer utilizes the exclusive smart pass technology based on advanced algorithms and improved mask patterns, facilitating the elimination of overspray and pass-to-pass banding. |
Specification
Model
VS-1801
VS-1801
Print Head
Epson DX5
Number of Print Head
1 Head
2 Head
Max. Printing Width
1860mm
Printing Speed (m2/h)
Draft
4 pass 19
4 pass 36
Standard
6 pass 14
6 pass 24
Quality
8 pass 11
8 pass 18
High Quality
8 pass 11
8 pass 18
Backlit
12 pass 7
12 pass 12
Ink
Type
Water-based and eco solvent ink
Color
CMYK
Capacity
1L
Ink Supply System
Auto ink supply system
Media
Width
Max. 1900mm
Type
Vinyl, film, polyester, flex, backlit film, PS board, KT board, PVC foam board…
Auto Media Feeding System
Maximum media weight of 25kg
Auto Cleaning System
Anti-clogged flash function and capping system
Pre-heating and Drying System
Equipped
Clamp
Equipped
Print Interface
USB 2.0
Print Head Height
From media surface 1.5, 2.0, 2.5, 3.0 Adjustable
Rip Software
Ultraprint, Maintop, Photoprint, Shiraz, Wasatch
Input Power
AC220V, 50Hz/60Hz
Machine Dimension
L3065mm×W840mm×H1265mm/170kg
Package Dimension
L3300mm×W760mm×H1020mm/210kg
| | | |
| --- | --- | --- |
| | | |
| Usages | Feed the print media | Get the print media pass through the print platform |
| | | |
| Install the winding roller for printed products | Start printing | |
Related Names
Eco Solvent Printer | Eco Solvent Printer Price | EPSON dx5 Print Head | EPSON dx7 Print Head |Galaxy Eco Solvent Printer