Product Description
This VS series direct-to-textile printer possesses its own specialty and it is specially designed for printing textile materials. This product is overwhelmingly superior to other products from the aspects of performance, quality and price. It's the BEST CHOICE in Chinese Market!
In the current marketing expansion, we take a series of promotion actions including providing competitive machine price, favorable cost of consumable items and free Wasatch Soft RIP TX.
Please contact our sales consultants to gain the newest quotation and news of promotion.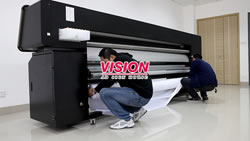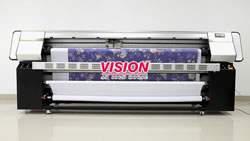 Product Features
1.High Printing Speed
The direct-to-textile printer VS-3202TX chooses 2 EPSON DX5 piezo inkjet print heads. With the printing speed of 350 square feet per hour at 4 pass modes, it is extremely suitable for printing dedicated superior textiles, flags and other materials.
2. Groove Design of Print Platform
In the process of printing the thin materials, the ink will be sprayed to the back of the materials through holes. Then the material will be contaminated and fail in printing. Our machine is designed with a groove under the print platform for collecting waste ink. Therefore, it is able to print freely even on the materials with large holes.

3. Winding Roller in Feeding System
With the handle pushed up, double rollers will clamp the print medium tightly in the middle. Then the material moves down against the rolling of rollers.
4. Static Removing Device
The static on the textile has a bad effect on ink dropping onto the surface of the fabric correctly, as well as printing quality. At this point, our direct-to-textile printer in VS series adopts the specialized device to remove the static, keeping optimal inking effect.
5. Tension Control Feeding System
Under tension control, the feeding system cooperated with the tensioning system is the preeminent part of the product to prevent the fabric from corrugating effectively. Moreover, the paralleled rollers will keep feeding the fabric precisely without deviation.
6. Powerful Heating System
Configured with three heating systems, this direct-to-textile printer gets the fabric heated completely in even color. It is unnecessary to worry about the fabric will lose color while tensioning.
7. Driving System
The combination of Panasonic servo motor with Taiwan reducer leads to the outstanding transmission precision and stability.

8. Reliability
Due to the bulletproof design, the machine is warranted to be normal without stoppage under the regular maintenance.

9. Optional Sublimation Heater
The direct-to-textile printer can be collocated with the sublimation heater selectively in the printing and heating process. The finished product can be dried on the heater.


Technical Parameters
Model
VS-3202TX
Print Head Technology
DOD micro piezo head, 180 nozzles×8 lines
Print Head Quantity
2pcs
Max Printing Width
2700mm
Resolution
360DPI, 720DPI, 1080DPI, 1440DPI
Printing Speed
Production 2Pass
30m²/h
Standard 3Pass
24m²/h
Quality 4Pass
20m²/h
High Quality 6Pass
12m²/h
Ink
Type
Water base dye sublimation/disperse ink, reactive ink, acid ink
Color
4 colors ×2 (CMYK) or 8 colors
Supply Way
Refillable cartridge, optional Continues Ink Supply System
Capacity
Standard 220ml×2/color
Fabric
Fabric Type
Polyester, cotton, silk, none knitted fabrics
Fabric Transmit Way
Double rubber rollers with tension control
Max Fabric Width
2700mm
Max Load
70kg
Max Diameter
350mm
Print Head Height
From media surface 1.5, 2.0, 2.5, 3.0 adjustable
Print Head Cleaning
Auto purging and capping system
Media Drying
3 hot air devices
Auto media tensioning
Tensioning system
Interface
USB 2.0
RIP Software
Standard main top RIP, PhotoPrint, Wasatch and other third-party software.
Operation System
Windows XP, Win7
Power Consumption
220VAC/50Hz +- 10%, Max. 10A
Environment
Temperature 20ºC~32ºC
Relative humidity: 40%~80%
Package Size: L×W×H/Weight
3951mm×782mm×1434mm/370kg
Related Names
Textile Printer | Digital Textile Printer | Direct to Fabric Textile Printer | EPSON Textile Printer | Rainbow Textile Printer | Textile Printer Price | Digital Dye Sublimation Printer