Product Description
Our sublimation printer VS-901HTP/1601HTP offers one-stop printing solution, releasing users from the heat transfer paper printing jobs and the printing troubles. It is no longer difficult to accomplish the high volume inking performance.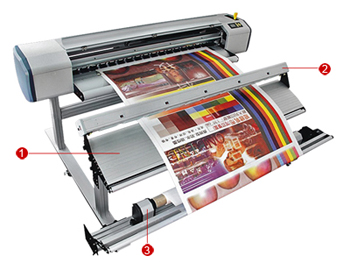 1. The unique back heating platform can drying and ironing the heat transfer paper with high-efficiency. More smooth paper, better heat transfer quality.
2. Hot Wind Dry System, Hot-win and Cold-win fits different printing speed.
3. Take-up System with Tension Control Function
This machine is mounted with only one Epson DX5 head, exerting outstanding printing effect on various heat transfer papers. Under 4 colors mode, it is able to print at the speed of 15m²/h to the upmost.
Application
1.Printing on clothing, curtain, sofa, umbrella, handbag, carpet, toys, etc.
2.Printing decoration on plastic surface of heat resistant plastic materials, plastic materials after coating, painting and electrophoresis, etc.
3.Printing decoration on metal surface of metal decorative plates after coating painting, etc.
4.Printing on the pros and cons of natural leathers
5.Printing on the surface of PU, PVC and materials coated PU/PVC, etc.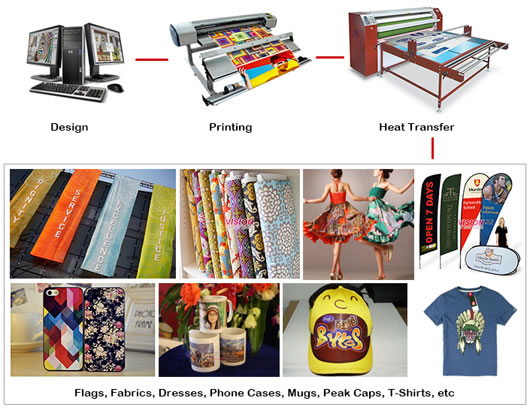 Advantages
1.Professional Print for Digital Transfer Paper
This sublimation printer makes full use of the printing technology with CMYK×2 colors. It offers continuous printing on a whole roller without any guards. Equipped with the particular drying and tensioning system, this device is capable of printing the media for 2,000m without scarping nozzles and corrugating printed medium in the entire process.
2. Rapid Drying
Our product employs double heating systems for drying the medium at high speed. One is a 300mm wide back drying platform with the temperature ranging from 60 to 70°C. It makes the medium ironed completely and increases the rate of finished printed product. The other system is the heating platform with hot air dryer. Both the cold air and hot air dryers are available under segmented control.
3. Precise Medium Tensioning and Feeding
The constant tensioning and feeding system gets the transfer paper tense without any deviation.
4. Efficient Cost Reduction
Compatible with any brands of transfer paper, the sublimation printer makes its print head durable without scratches. As the cheap heat transfer paper is still available, it saves much use cost for users. In addition, the optimal drying and tensioning system not only raises the rate of finished product, but also lessens the scrap rate as possible as could.

Technical Parameters
Model
VS-901HTP
VS-1601HTP
Print Head Technology
DOD micro piezo head, 180 nozzles ×8 lines
Print Head Quantity
1pcs
Max. Printing Width
920mm
1620mm
Resolution
360DPI, 720DPI, 1080DPI, 1440DPI
Printing Speed
Production 4Pass
12m²/h
15m²/h
Standard 6Pass
10m²/h
12m²/h
Quality 8Pass
8m²/h
10m²/h
High Quality 12Pass
5m²/h
6m²/h
Ink
Type
Water base dye sublimation/disperse ink, reactive ink, acid ink
Color
2×CMYK
Supply Way
Refillable cartridge, optional continuous ink supply system
Capacity
Standard 220ml×2/color
Fabric
Media Type
Heat transfer paper
Media Feeding
Passive
Max. Media Width
940mm
1640mm
Max. Media Load
Passive 25kg
Max Media Diameter
350mm
Print Head Height
From media surface 1.5, 2.0, 2.5, 3.0 adjustable
Print Head Cleaning
Auto purging and capping system
Auto Media Tensioning
Inductive tensioning system
Media Drying
Back heating and hot air drying system (segmented control)
Interface
USB 2.0
RIP Software
Standard Main Top RIP, PhotoPrint, Wasatch and other third-party software.
Operation System
Windows XP, Win7
Power Consumption
220VAC/50Hz +- 10%, Max. 10A
Environment
Temperature: 20ºC~32ºC
Relative humidity: 40%~ 80%
Package Size: L×W×H/Weight
1710mm×782mm×1170mm/ 100kg
2410mm×782mm×1170mm/130kg